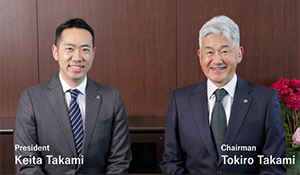 Since its founding in 1948 as HAMA Research Institute, Hamari Chemicals, Ltd. stands out as a company that continues to take on new challenges in developing new drugs and technologies while improving current synthetic chemical methods. We are flourishing because of the continued support of our worldwide customers who seek our active ingredients. We manufacture and sell drug substances and their intermediates, health dietary ingredients and cosmetic ingredients.
Efforts to improve non-financial values centered around ESG (Environmental, Social and corporate Governance) are indispensable for the sustainable growth of our company. While conducting business activities based on our corporate and management philosophies, we promote efforts such as reducing global environmental burdens, vigilance against supply disruptions of drug substances, and ensuring fairness and management transparency. These are the targets are those of SDGs (Sustainable Development Goals) adopted by the United Nations General Assembly.
As a company that is essential to the World, we will continue to develop new technologies, grow and evolve to become a world-class company brimming with excellence. We look forward to your continued support and encouragement.
Tokiro Takami, Chairman
Keita Takami, President